There is no doubt that lotion filling and mixing capabilities are at the heart of wet wipes manufacturing business. The quality of lotion mixing determines the efficacy of wipes and those operations demand high quality, efficiency and precision. Dosing errors, degree of homogeneity, mixing ratio errors, formula protection and sanitization issues are among the commonly seen challenges encountered by wet wipes manufacturers, especially those still adopting manual mixing operations.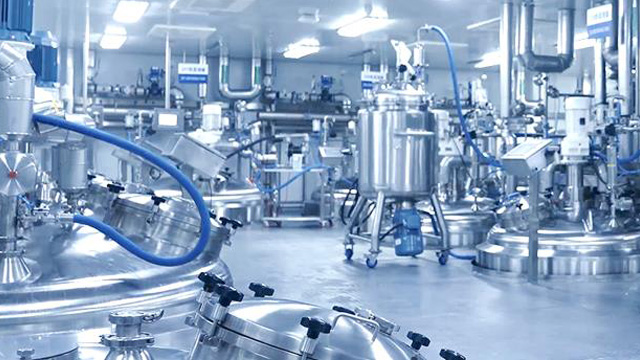 Computerized mixing operation brings you peace of mind
For American Hygienics Corporation, its cutting-edge Bio-pharma design liquid processing infrastructure responds to those challenges by delivering extreme quality and precision in the manufacturing process. According to operation staff of AHC, automation has more than doubled production efficiency, with a qualified product rate over 99%. The key to AHC's success lies in its computerized mixing operation.
AHC's 316 L stainless steel construction of in-house blending systems are equipped with world-class compounding techniques and completely automatic operation. Computerized mixing operations can ensure the accuracy of liquid mixing process while allowing for an automated monitoring process based on configured data like adding sequence, mixing ratio, mixing time, pressure, and feeding dosing. That's what a well-engineered production line needs. It brings peace of mind to customers.
If you take a closer look at its manufacturing facilities, you will find that the complete system actually works on the basis of barcode scanning starting from inventory. Every tank has a barcode which contains information concerning ingredient code, weight and adding order. So computerized mixing operations will make sure that the system will only run step by step while all mixings are done in the same process and sequence all the time. On top of that, AHC's intelligent manufacturing execution system for mixing operations enables utmost precise control over formulas and keeps formulas protected and confidential.
One-to-one loop eliminates cross contamination
As one of the largest wet wipes manufacturers in Asia, AHC has 40 production lines to fully meet all kinds of wet wipes production demands. This involves a large number of mixing tanks and filling lines. How to avoid mistakes when matching mixing tanks with filling lines? According to Operations Manager Neel Kapadia, the key is the one-to-one loop, which means each individual mixing tank is connected to only one filling line. This allows you to have error free transfer and makes cleaning and sanitizing process easier. Moreover, due to the unique design, AHC has been able to shorten the transfer piping by 40%, which will again reduce bioburden and cut down carbon footprint.
Multiphase mixing capability improves efficiency of preparation in advance
As some of the formulas cannot be added into one big tank, you must mix some chemicals separately. That's when you need multiphase mixing capability. Neel Kapadia told the reporter that AHC's premix mixing capability allows more complex chemicals to blend easily as its premix tanks are equipped with high RPM mixers (200x compared with master tank) and some contain homogenizers so they are more powerful and make it easier to blend chemicals. Meanwhile, AHC's premix tanks are also jacketed, which allows you to use temperature to dissolve chemicals and allows great bonding with other chemicals.
Hot Water Sanitization System: a green strategy for biofilm control
After mixing operations, mixing tanks need to be rinsed, which is no easy job. Chemicals must be rinsed off from surfaces, leaving no toxic residues. Instead of using chemicals, AHC adopts a Hot Water Sanitization System which allows 85˚C hot water sanitization and is specifically designed to minimize bioburden. Hot water sanitization provides the green strategy for biofilm control and has obvious advantages over chemicals: no chemical residues, no corrosion, and it can reach hardly accessible areas. Using Industrial waste steams to heat water instead of chemical cleaning and sanitization process makes AHC one step closer to a greener world.
"AHC treats all liquid blending with the same care as regulated drugs," said Nilesh Parmar, CEO and founder of AHC, "We have made great investments in our liquid processing infrastructure to make sure that we deliver industry-leading level of quality, efficiency and precision in our manufacturing process while minimizing bioburden to keep both ourselves and our customers ever more reassured about the quality of our wet wipes."