Cleanrooms are a must-have for businesses engaged in manufacturing pharma-grade products like wet wipes. A cleanroom is a controlled environment where pollutants like dust, airborne microbes, and aerosol particles are filtered out in order to reduce contamination and provide the cleanest area possible, while environmental parameters such as humidity and temperature are also controlled. The question is, how clean should a cleanroom be to satisfy the requirements for manufacturing wet wipes? Let's take a look at how American Hygienics Corporation (AHC), a leading wet wipes manufacturers in Asia, is doing in this aspect.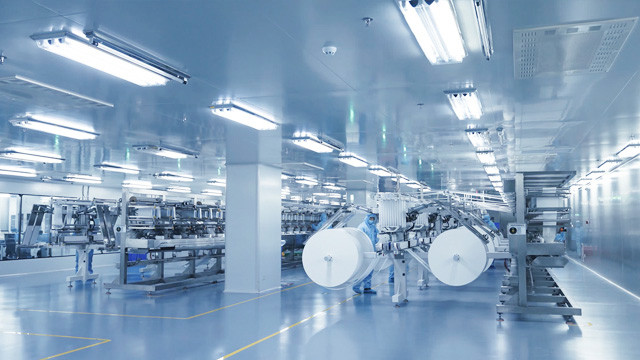 To begin with, a certain class level will be met if the measured concentration of a specified particle size is within the limits. The most commonly used standard for cleanrooms is the Federal Standard 209E. This standard specifies the detailed requirements for various classes of cleanrooms and correlates with ISO 14644-1 classes as well.
According to AHC, each of the company's 40 independent wet wipes production lines is housed in an isolated cleanroom workshop to prevent cross-contamination and each cleanroom reaches Class 100k under Federal Standard 209E.
Class 100k cleanrooms, equivalent to ISO 8 cleanrooms, have a maximum particle count of 100,000 particles (≥0.5 um) per cubic foot of interior air. In such a cleanroom, air is filtered and recirculated through HEPA filters to remove particles`.
Equipment and devices in AHC's cleanrooms are designed to generate minimal air impurities. Only trained personnel are allowed to access and work in a cleanroom workshop. When working inside a cleanroom each employee wears contamination free clothing and enters/exits through an airlock doorway to prevent particles from entering.
"As a company specializing in wet wipes, hygiene is one of the top priorities in our process of manufacturing", said Nilesh Parmar, CEO and founder of AHC, " That's why we spare no efforts to make sure our cleanrooms meet the strictest standard in the wet wipe industry."