Baby wipes are one of the most commonly used lotion-formulated products used on your baby's skin. With our state of art water purification system we have developed one of the purest baby wipes in the world. Our lotion formula is so mild & gentle that it is 99% water. Both the baby wipe liquid and cloth have an emphasis on quality and purity. These wipes are super thick and soft for the best care and comfort for your baby.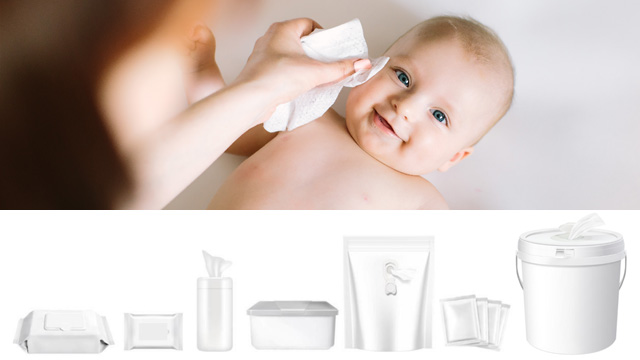 PRODUCT FEATURE:
• Formulated with the mild & gentle lotion that it is 99% pure water • Suitable for baby's delicate skin • Enriched with aloe vera • Thick, soft absorbent cloths. • Convenient and Easy Dispensing • No parabens, alcohols, chlorine • No artificial fragrance
LIQUID FORMULATIONS:
Baby wet wipes can be impregnated with a wide range of formulations, depending on the preferences, requirements and claims.
SUBSTRATE SELECTION:
We provide you with a wide array of choices for substrate as per the baby wipes application.
PACKAGING SOLUTION:
Tubs, round and oval canisters, soft packs, small travel packs, individually wrapped baby wipes etc.
Want to know more details, minimum order quantity (MOQ) and quotation of 99% pure water baby wipes contract manufacturing? please contact us. We are looking forward to your cooperation!
---
WHY CHOOSE AMERICAN HYGIENICS CORPORATION MANUFACTURE YOUR 99% PURE WATER BABY WIPES?
Your 99% pure water baby wipes will be manufactured in our EPA, as well as FDA-registered facilities with dedicated packaging suites, adhering to the strictest cGMP quality standards. All of our formulas are produced in-house with a wide array of ingredients, formulations, and fragrances (or non at all) you can choose from, providing you with the performance you require for your 99% pure water baby wipes.
---
THE CATEGORY OF BABY WIPES & DIAPERS:
• 99% Pure Water Baby Wipes • Hypoallergenic Baby Wipes • Plant Based Baby Wipes • Bamboo Baby Wipes • Flushable Toddler wipes • Baby Pacifier Cleaning Wipes • Toy Cleaning Wipes • Baby Diapers