Everyday life can be simpler and more enjoyable by dealing with small nuisances efficiently. We manufacture multi-purpose cleaning wipe applications that aredesigned to effectively help solve issues.
Whether at home, or the office, or school, or any other place, our various multi-purpose cleaning wipes provide the perfect solution for all your cleaning needs.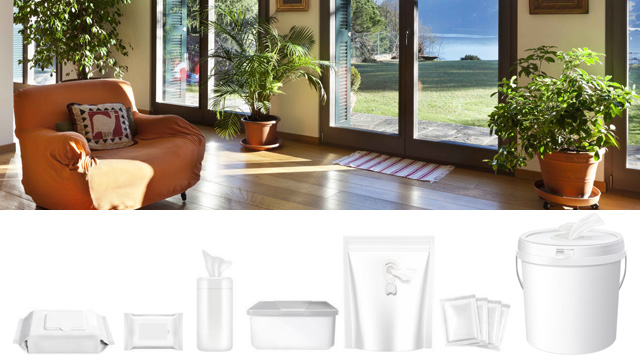 FOR CLIENT'S CUSTOMIZATION
• Effective formula • EPA approved • Mild to hands and effective decontamination • Multiple choices of package • Refresh your home • Your own formulations are also welcomed at AHC.
NEW PRODUCT - DISINFECTANT WIPES EPA APPROVED
AHC manufactured a new product - disinfectant wipes EPA approved. Use this product as a convenient way to clean and disinfect your household surfaces.Each pre-moistened, disposable wipe kills germs wherever you use it. No bottles, no sponges, no mess. Effective disinfecting has never been easier. Unplug small electrical appliances before use.
Kitchen: Sink & Counter / Garbage Cans / Refrigerator Exteriors / Light Switches Bathroom: Bathtub & Faucets / Toilet Seats / Shower Areas / Door Knobs Electronics: Laptops & Tablets / Smartphones / Gaming Consoles / Remote controls
Disinfects: Influenza A Virus (H1N1)/Respiratory Syncytial Virus/Salmonella Enterica (Salmonella)/Escherichia Coli With Extended Spectrum beta-lactamase resistance (ESBL)/Escherichia coli 0157:H7(E.coli)/Listeria Monocytogenes/Staphylococcus aureus-Methicillin resistant(MRSA)/Herpes Simplex Virus Type 1/Staphylococcus aureus(Staph)/Influenza H7N9(wildtype A/Anhui/1/2013)/Human Coronavirus/SARS-CoV-2/Pseudomonas aeruginosa/Streprtococcus Pyogenes(Strep)/Campylobacter Jejuni/Shigella Flexneri Serotype 1B Sanitizes: Enterobacter Aerogenes/Staphylococcus Aureus Fungistatic: Aspergillus Niger(mold & Mildew)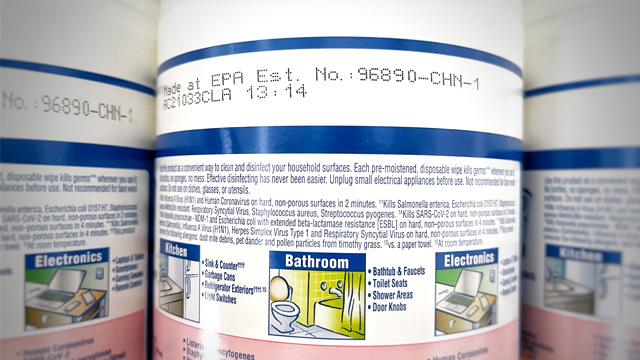 Want to know more details, minimum order quantity (MOQ) and quotation of multi-purpose cleaning wipes contract manufacturing? please contact us. We are looking forward to your cooperation!
---
WHY CHOOSE AMERICAN HYGIENICS CORPORATION MANUFACTURE YOUR MULTI-PURPOSE CLEANING WIPES?
Your multi-purpose cleaning wipes will be manufactured in our EPA, as well as FDA-registered facilities with dedicated packaging suites, adhering to the strictest cGMP quality standards. All of our formulas are produced in-house with a wide array of ingredients, formulations, and fragrances (or non at all) you can choose from, providing you with the performance you require for multi-purpose cleaning wipes.
---
THE CATEGORY OF HOUSEHOLD WIPES:
• Multi-purpose Cleaning Wipes • Wet Kitchen Wipes • Toilet Seat Cleaning Wipes • Glass Cleaning Wipes • Carpet/Fabric Cleaning Wipes • Furniture Polish Wipes • Floor Cleaning Wipes • Shoe Shine Wipes • Lens & Electronic Wipes