• MEDICAL DEVICE CLEANING WIPES MANUFACTURER
AHC's medical device cleaning wipes are co-developed with the leading institutional clients and hospitals. This provides us with extensive knowledge on how to create products that are easy to use for caretakers, yet enjoyable for patients.
Packaging formats are designed for efficient and safe usage, in order to avoid cross-contamination and other potential risks.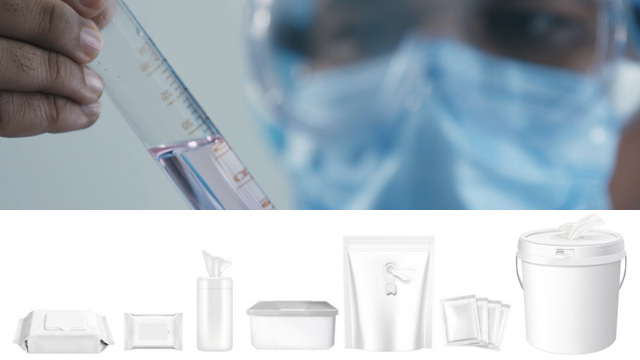 FOR CLIENT'S CUSTOMIZATION
• EPA approved • Alcohol or Non-alcohol • Mild PH suitable for all skins • Enriched with essential oils • Cleanse your skin or the hard surface of objects • Your own formulations are also welcomed at AHC.
Want to know more details, minimum order quantity (MOQ) and quotation of medical device cleaning wipes contract manufacturing? please contact us. We are looking forward to your cooperation!
---
WHY CHOOSE AMERICAN HYGIENICS CORPORATION MANUFACTURE YOUR MEDICAL DEVICE CLEANING WIPES?
Your medical device cleaning wipes will be manufactured in our EPA, as well as FDA-registered facilities with dedicated packaging suites, adhering to the strictest cGMP quality standards. All of our formulas are produced in-house with a wide array of ingredients, formulations, and fragrances (or non at all) you can choose from, providing you with the performance you require for your medical device cleaning wipes.
---
THE CATEGORY OF HEALTH CARE & MEDICAL WIPES:
• Disinfectant Wipes • Antibacterial Hand Wipes • Multi Surface Wipes • Medical Device Cleaning Wipes • Alcohol Wipes • Adult Wash Cloth Wipes • Instant Bathing Wipes • Saline Wipes